The 11th Tehran International Animation Festival's International jury panel members are announced.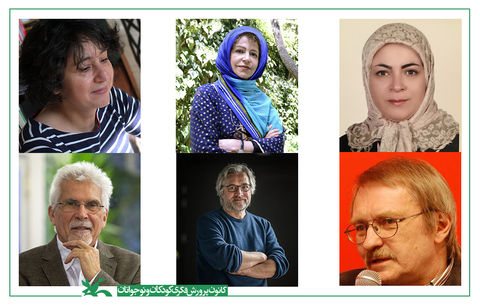 Six national and International well- known artists are responsible for judging the selected films of the International and CIFEJ sections of the 11th Tehran International Animation Festival.
According to the International Affairs of the Institute for the intellectual Development of the Children and Young Adults announcement, four International artists beside two Iranian artists will judge the International and CIFEJ films' sections.
Michael Dudok de Wit, Sylvie Bringas, Volker Petzold, Mahin Javaherian, Ferenc Mikulás are going to judge the International section films on March 1 and the judgment will be finished on March 5 .
Also, Azade Shakouri Raad , Volker Petzold the members of the CIFEJ jury panel are going to start their judgment of the CIFEJ section On March 1 and It will be finished on March 5 .
Michael Dudok de Wit was Born in 1953, He is a Dutch Animator, Director and Illustrator based on London who Studied in Geneva and Surrey University.In 2000 his short film "Father and Daughter" won the Oscar, and his recent feature film "The Red Turtle" was nominee in 2016 for Oscar.He won some prestigious awards like Cesar, BAFTA, Annecy, and Ottawa.
"The Monk and the Fish", "The Aroma of the Tea", "Tom Sweep" are among his other works.
Sylvie Bringas was born in 1965. Educated as a visual artist in France, then studied animation in England. In 1990s and 2000s, she developed, directed and produced independent animation films, funded by Channel 4, FILM 4, British Council and the Arts Council of England. She is currently working in animation education at the Royal College of Art and the University of Westminster in London, and lectures widely on documentary animation and related practices.
Mahin Javaherian was graduated in graphic design from Fine Arts Faculty, Tehran University, and also directing animation from Art University. She is an animation director and producer, a teacher and an author in this field, like as compilation of "Iranian Animation History". Besides being a jury member in many animation festivals, she has achieved many awards in various festivals and been ASIFA founding board member
Azade Shakouri Raad was born in 1976, Tehran, she has got a B.A in English Translation from Azad university of Tehran, a B.A in TV Production (Animation) from IRIB broadcasting University, and a M.A in dramatic literature from Tarbiat Modares University. She is a member of art council in Nasim and Namayesh IRIB Channels, a graphist artist in education channel, as well as a writer and director of animated films and series. She has won many prizes in different festivals.
Ferenc Mikulás was born in 1940, is one of the main figure in the Hungarian animation film culture. He is the founder and director of the animation film studio Kecskemétfilm and the director of Kecskemét Animation Film Festival (KAFF). He wrote screenplays and directed short films. From 1970, he began to work on animation films in Pannonia Film Studio. He is the producer of several animation films and series such as the Hungarian Folk Tales, Water Spider, Wonder Spider, etc.). He has been the member of the jury of several international animation film festivals, including Chiavari, Seoul, Ankara, and Beijing.
Volker Petzold was born in 1951 and Studied chemistry, economics and philosophy/aesthetics. He is a Freelance writer, publisher and festival organizer (one of the founders of the Cottbus film festival). Works in several projects, among them children's and youth film festival "Schlingel".
The 11th Tehran International Animation Festival will be held on March 3-7, 2019 under supervision of Mohammad Reza Karimi Saremi. The National and International selected films will be screened for the artists and Interested audiences at the Institute for the Intellectual Development of Children and Young adult movie theaters.